002
System Design: The Nest.
Our favorite part besides making the book (and posters) has been figuring out a strategy and rewards that directly relate to the creative process. This was a chance to allow the visual language to expand and transform while being applied to different products, media, and applications.
Specs: (Print, Digital, & Apparel).
Collaborations with various colleagues, classmates, and mentors to make this language come to life. Excited to update and share the real thing soon (these are comps).
—
Credits: (Concept/Design) Scott Massey; (Editor) Laura Bernstein, Ethan Stewart, & Ian Lynam; (Advisors) Lars Harmsen, Julia Kahl, Julian Brimmers, & Chritoph Nagel; (Motion/Sound Design) Lisa Armstrong; (Printers) Tom Kracauer, Never Press, Slowtide; (Flag Design) Scott Richards; (Publisher) Slanted Publication & Leisure Labor.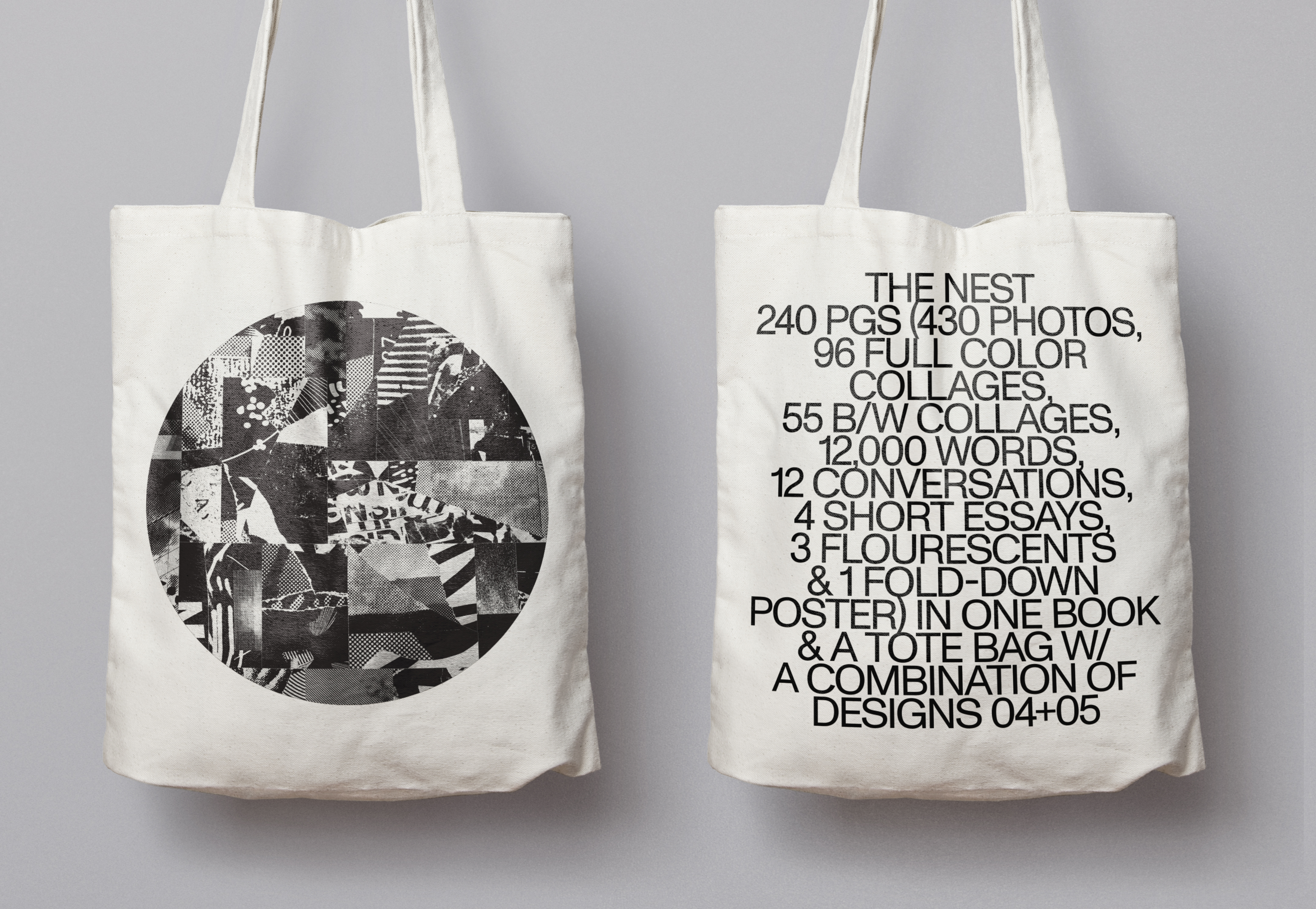 Captions: (1) Double sided fold-down poster and dust Jacket, 20×28"; (2) The Nest video with music by The Chandeliers; (3) Detailed tote bags; (4) Beach towels responsibly made by Slowtide; (5) Series of Riso printed collaborations w/ Never Press; (6) Flags made from silkscreen scraps, printed in LA by Tom Kracauer and sewn in Newport Beach by Scott Richards, 10×18"; (7) The Playlist (4 hours of music). We've curated a playlist of songs that altered the process of the book and our perception of this time, for the better. Designed to move your emotions and shift thoughts to new places, have a listen and see what it stirs up. Listen to
The Playlist
.